Description
Sea To Summit Comfort Plus Insulated Sleeping Mat
ONLY LARGE MUMMY AND SMALL MUMMY LEFT!
PLEASE NOTE: CLEARANCE ITEMS ARE NOT RETURNABLE. Choose carefully or contact us first for advice.
NB. The Large Mummy version we have comes with a pumpsack for inflating. The Small Mummy version DOES NOT and requies manual inflation.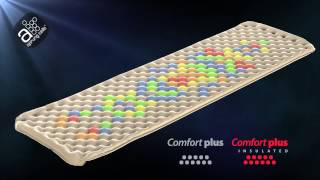 Our Comfort Plus range provides the most effective system for fine tuning the level of comfort available in any air mat today. Using two high resolution cell layers that can be pressurised independently provides ultimate flexibility in comfort adjustment and protection from rough terrain. If you are on uneven or bumpy terrain, you can inflate the bottom layer at higher pressure as a firm barrier. Using the fine tune valve, you can then adjust the upper layer to a lower pressure to distribute your bodyweight and shape over more cells which feels softer and more comfortable.
When we set out to design a mat that was better than what was already available, we ultimately went back to why we carry a sleeping mat into the wild in the first place — to give us a better night's sleep. 'Better' is of course a very subjective ambition and while we could have made the lightest, or the most compact mat ever designed, we're stoked to present what we consider to be the most comfortable sleeping mattresses available. Happy sleeping!
Features
Air Sprung Cells operate in the same way as a pocket spring mattress, as each cell deforms independently the mattress conforms to your body shape which feels softer and more comfortable with more body contact area and even dispersion of pressure.
The Comfort Light range features dual layer construction in the torso for maximum comfort and insulation, and single layer construction in the head and legs where it's needed less.
Exkin Platinum® is a very lightweight, quiet non-woven fabric that has a thin metalised layer applied to the surface. Exkin Platinum® thermal technology reflects radiant heat loss back to the user.
The THERMOLITE® insulation lofts up inside the Air Sprung Cells to prevent convective heat loss from your warm body to the cold ground.
Multi-function valve integrates an inflate port with a one-way valve to prevent air loss before you seal the valve, a rapid air dump deflate port, and a fine tune button to adjust for comfort, in one compact, low profile unit.
Extrusion TPU lamination is more durable, consistent and is vastly superior to roll-to-roll lamination, helping to prevent delamination.
All Sea to Summit sleeping mats come with a quality stuff sack sized to suit your mat, plus a small repair kit containing six self-adhesive patches for repairing punctures in the field, and a spare silicone one-way valve flap. The stuff sack also doubles as a pump sack for your mat.
Specifications
| | | | | | |
| --- | --- | --- | --- | --- | --- |
| Size variation | length | width | Height/Depth | Packed dimensions | weight |
| Small | 168 CM | 55 CM | 6.3 CM | ø11.5 x 23 CM | 715 G |
| Regular | 183 CM | 55 CM | 6.3 CM | ø12 x 23 CM | 785 G |
| Large | 201 CM | 64 CM | 6.3 CM | ø12.5 x 26 CM | 1015 G |